Clannad ~After Story~ (クラナドアフターストーリー, Kuranado Afutā Sutōrī?, "CLANNAD 〜AFTER STORY〜") is the second season of the Clannad series, and adapts the After Story arc of the Clannad visual novel.
Plot
Initially depicting events occurring immediately after those in the first season, the timeline of ~After Story~ extends several years into the future. The season begins by following Tomoya Okazaki as he completes high school and begins his life with Nagisa, to whom he has professed his love. As their life as a couple begins, Tomoya and Nagisa marry in Graduation, and shortly after, she is revealed to be pregnant.
As Nagisa's pregnancy develops, she becomes increasingly bedridden, and the Okazakis' struggle to cope with Nagisa's continued and seemingly worsening illness. Tomoya, now working as an electrician to support his family, must leave Nagisa during the day, but she is cared for with the help of Akio and Sanae. Tomoya eventually opts to quit his job to spend more time with Nagisa, and she gives birth to a daughter, Ushio. Shortly after the childbirth, however, Nagisa dies.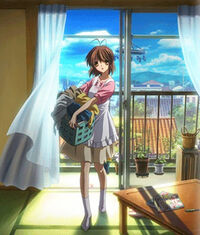 Following Nagisa's death, Tomoya returns to work as an electrician, but falls into depression over the loss of his wife. The Furukawas are left to raise Ushio, and the first time she is displayed as a grown child, she appears timid around Tomoya, showing the lack of positive father-daughter interaction during the limited time they were mentioned to have spent together.
In The Ends of the Earth, while on a trip with Ushio, Tomoya meets his grandmother, who recounts to him the story of his father, Naoyuki. This persuades Tomoya to take an active role in Ushio's life, and has Ushio move in with him. Later, however, Ushio is suddenly struck by the same illness Nagisa was afflicted with, and dies shortly thereafter, with Tomoya dying from exposure.
As the events of Small Palms unfold, the role of the Girl in the Illusionary World and the garbage doll are briefly explained. The Illusionary World collapses near the beginning of the episode, with the Girl dissolving into light orbs. Tomoya's life from the time he met Nagisa is relived, and this time, Nagisa survives the childbirth. The younger Furukawas continue to raise their daughter peacefully, unafflicted by Nagisa's, and Ushio's, tragic illness.
See also
External links
Community content is available under
CC-BY-SA
unless otherwise noted.