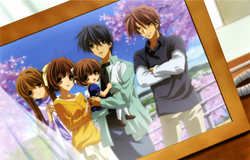 "Furukawa" redirects here. For other uses, see Furukawa (disambiguation).
The Furukawa family (古河家族, Furukawa kazoku?) is the preeminent family group featured in Clannad and Clannad ~After Story~. When used, the term Furukawas usually refers to Akio and Sanae Furukawa, the owners of Furukawa Bread. In a broader sense, however, the name may be used to refer to their daughter, Nagisa, and son-in-law, Tomoya Okazaki. Akio and Sanae's granddaughter, Ushio, is also a member of the extended Furukawa family.
The forefront position of the Furukawas in the series is due to a number of factors; however, it is primarily due to the fact that Nagisa, as Clannad's main heroine, has a large part of the storyline focused on her life. Connected to this is the closeness of the Furukawas as a family unit. Tomoya's distance from his father, and the absence of his deceased mother from the series, also allows for focus to shift from his immediate family to that of Nagisa's.
Community content is available under
CC-BY-SA
unless otherwise noted.